INSTALLATION
INSTALLATION
The installation phase can take the better part of a day (we will advise you as to how much time you should allow for installation). We will work with you to confirm a time that is convenient for installation. AGS installers handle every job with meticulous detail to insure a perfect fit for timeless beauty and life long durability. No matter how complex the kitchen, bathroom or any other installation is, you can always count on AGS for excellent workmanship on every jobsite installation.
When the installation crew arrives, the team leader will review the process with you. Then they will install the countertops onto the cabinets. If the sink is undermount, they will mount and secure the sink. In the case of a drop-in sink or a cooktop, even though we start the cutout at shop, it will be finished on site. We prefer this to prevent any possibility of cracking during transportation. Since cooktop and drop-in sink cutouts are larger, this can compromise the integrity of the stone while loading and installing. Some dust can result during the cutout process, however our installers are equipped to catch the majority of it. Then the installers make the required seams and drill the faucet holes. The cooktop and drop-in sink will be dropped into place for confirmation of fit. They will put the backsplashes in, do the caulking and seal the surfaces. They will not be able to perform any electrical, plumbing or cabinetry work. They will not reconnect sinks or cooktops. Our installers will thoroughly clean the jobsite when they're done.
AGS Installation Team Unloading the Countertops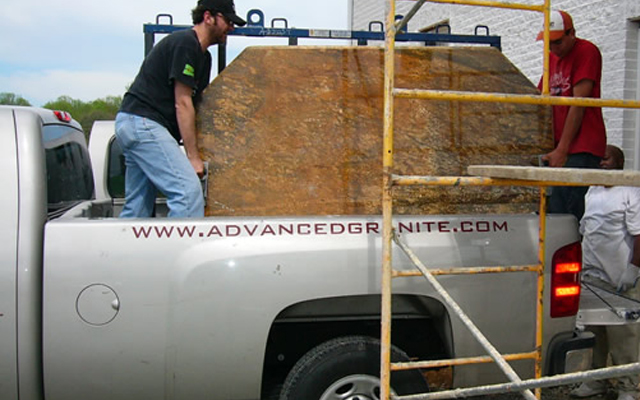 AGS Installation Team During Sealing Process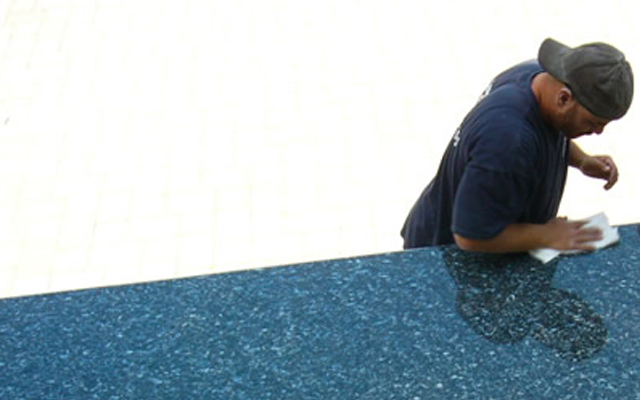 Your inspection of the finished job is very important. The installation team leader will answer all of your questions and will ask you to fill out our Job Completion Checklist indicating your satisfaction of the job. Afterwards, you will receive an individualized stone care instruction sheet.
If you are not getting new cabinets as part of the project, and if we will remove the old countertops, it will be done at the time of the installation phase. Tear out service, if required, should be included in the written cost estimate. As a part of the tear out service we will a) disconnect all plumbing and electrical connections, leaving the fixtures with you unless otherwise requested, b) tear out the existing countertops and backsplash as applicable and c) haul away the old countertops unless directed otherwise. We advise you to remove all items from the lower cabinets and drawers prior to a tear out since some dust is to be expected.