LAYOUT
Before we start fabricating your countertops, our Layout Department uses the CAD files which are created at the template appointment to do the layout on the slabs. We are proud to offer personalized layout services for stone with significant movement or veining to ensure our customers are satisfied with their project upon completion.
Using the Slabsmith® program which is specifically designed to do layouts on natural stone slabs, our specialists prepare different options which are then e-mailed to you. This allows us to provide you more choices that enable you to choose the exact spots of the slab that will be included in the project. We create different options using different parts of the slabs where the cuts will be made. In the case of significant movement or veining, this process helps us to prevent any surprises or dissatisfaction afterwards. This way you can tell us if there are any specific parts of the slab that you want to see; let's say, in the center of the island, or next to the sink, etc…
If you have any concerns or requests about the way that your countertops will be cut from the slabs, we encourage you to share all your ideas with us during this process.
As we mentioned before, we believe that communication is the key to your satisfaction and our success. During the layout process, your opinion and the expert advice from our professionals will determine what the final project looks like. Project details such as edge profile, backsplash details, etc… will also be finalized.
After you make a decision among layout options, you will feel comfortable knowing that your finished project is going to look just right.
Below please find some examples of these options, which allow you to view the project as if it's already fabricated and installed.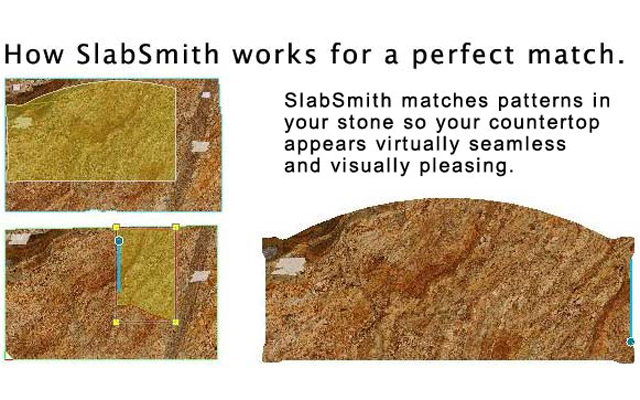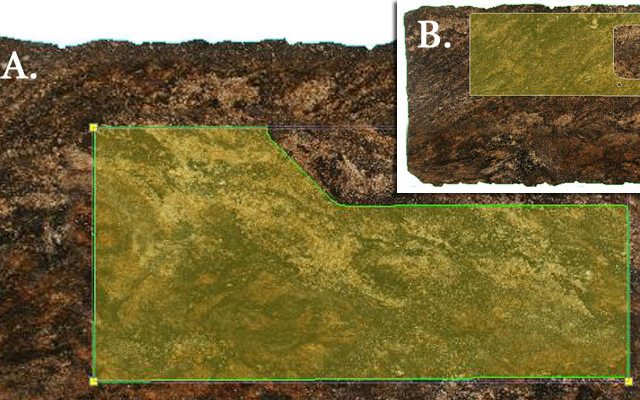 Option 1 Layout & Option 2 Layout