MEASUREMENT & TEMPLATING
MEASUREMENT & TEMPLATING
After approving the initial estimate, we will schedule an appointment so that we can come to the jobsite to take exact measurements. Due to the nature of field measurements, we will give a 2 hour time window for this appointment.
As every other step of the process, we use the latest and the most accurate technology available for templating. Our measurer takes precise measurements by a laser templator. This device calculates the distances by shooting a laser beam to the desired targets. These distances are then converted to a CAD (Computer Aided Drawing) file displayed on the laptop computer screen which is a part of the templating machine. The measurer creates a pattern of the cabinets and for the entire surface area where stone will be applied using the laser templator. The laser technology allows us to prevent any mistakes. These templates are used in the fabrication of the countertops with any shapes from the simplest rectangle to the most complicated designs. Utilizing the laser technology we are also able to fabricate the countertops precisely scribed to the walls.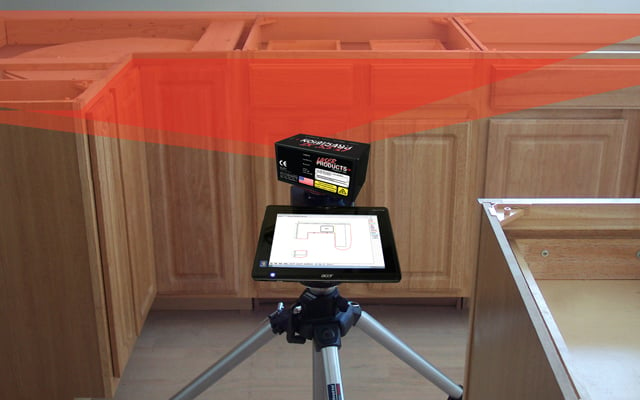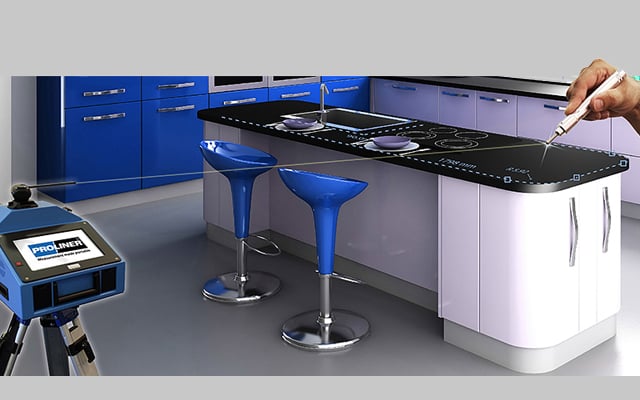 All base cabinets must be properly installed and leveled prior to template appointment. For remodels, we do not require existing countertops to be removed.
Once the pattern of the project is outlined on the computer screen, the measurer adds the desired overhang to the cabinets, creates any additional shapes for the design, shows it to you and makes any changes as you request.
We use this quality control step to ensure the job is produced to exact specifications. After the templating is complete, the initial estimate is revised based on the field measurements.
We believe that communication is the key for customer satisfaction. We would insist that you be present to discuss and sign off on the details of the project. Items usually discussed include; but are not limited to, special designs on islands, seam locations, overhangs, corner radius details, faucet hole locations, cutouts and any personal preferences. Sinks, cooktops and faucets are also checked for compatibility and fit (therefore all such units must be on-site at template). Cabinets are reviewed for any adjustments required.
Please keep in mind that once templating is complete, you should not move any cabinets or make any changes, since this will affect the accuracy of the countertops.
Note: If you are providing templates or measurements for the fabrication/cutting of any of the material, AGS can not be responsible for an inaccurate product because of incorrect client-supplied templates/measurements.