The Differences Between Bathroom and Kitchen Countertops
When looking to modernize your bathroom and kitchen, one of the major decorative changes that can impact the overall look is the countertop. Countertops are practical surfaces in constant use and needs to not only look the part, but also give long-term durability and strength. A question that we are often been asked at (company name) is "What is the difference between kitchen countertops and bathroom countertops?" Even though the materials, design, and installation of both bathroom countertops and kitchen countertops may essentially be identical, there are still some subtle differences that exist between the two countertops.
The first is the size.
The bathroom countertop is typically much smaller than kitchen countertops. The standard kitchen countertop has a height of 36 inches and a width of 25 inches. This provides space for a cook top or a sink. The bathroom countertop on the other hand has a height of 32inches, but it is really a matter of choice. Taller adults might want a higher counter.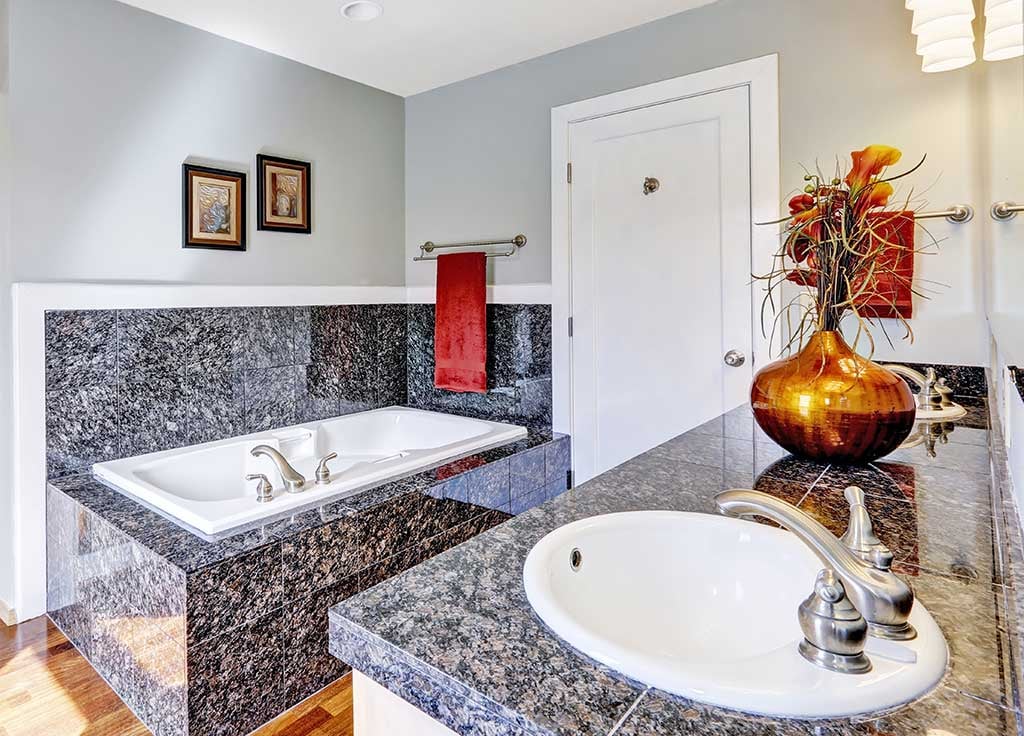 Let's consider there usage. Unlike the kitchen where the countertop is usually kept dry, the bathroom is a completely different environment. As leftover food crumbs or marks from cutlery and silverware may stain the kitchen countertops, the bathroom countertops face a more potentially dangerous threat and are generally more difficult to clean. Mouthwash, toothpaste and other hygiene products are common culprits that can stain the bathroom countertop. In addition, the bathroom faces frequent threats of plumbing leaks and flooding.
Therefore, if you are renovating your home or building a new house, it is important to consider a stone material that is stain-resistant, easy to maintain and can last long for the counter. One of such materials is granite. Granite remains the top choice for bathroom and kitchen countertops globally. Countertops that are made from granite are resilient to all forms of water damage. They create a wonderful aesthetic aspect to any bathroom or kitchen. Need to buy a countertop for your home? Browse through our wide range of amazing Bathroom and Kitchen Countertops to make a selection of your choice.
For further information please contact us.